Minimally Invasive Tubular Decompression
A 45 year old male, doing desk job, was suffering from low back pain and pain in left leg on walking for more than 10-15 minutes. He had been suffering from pain, which was of recurring frequency for the last 8 years. The patient had tried all conservative management options, but no permanent solution, his symptoms used to recur on exertion and on stopping physiotherapy, he was advised spinal surgery by different doctors but was hesitant to undergo surgery, as he was not sure of the long-term recovery.
He was clinically examined and reports were reviewed and he was advised a minimally invasive spine decompression to relieve the compression. The benefit of undergoing a minimally invasive surgery was discussed, as there would be minimal destruction of normal tissues, the post-operative recovery time would be less. Also he could do almost all normal activities after recovery from the surgery.
He was evaluated and underwent a minimally invasive spine decompression, and was discharged 2 days post surgery. He was advised light activities initially and then after 8 weeks was started on normal routine activities and physiotherapy Currently he is doing all activities, without any restriction and is back to his routine.
Minimally Invasive Decompression , Stabilization & Fusion
24 year old, was suffering from severe right leg pain and was unable to walk for more than 5 minutes, had tried all conservative methods , but was having no pain relief.
He presented to our clinic with severe pain and numbness in leg and weakness in the right foot, he underwent a Minimally Invasive Decompression & Stabilization and was Symptomatically better post surgery.
He was mobilised 4-5 hours post surgery and was comfortable and self walking when he was discharged 48 hours after the surgery.
On 3 months follow-up he has complete recovery and is able to do all activities and resume his new job!!
Cervical Disc Replacement
A male 56 year old suffering from cervical neck pain and radiating pain in the upper limb for the last 3 years. His work was office desk job, and he was involved in minimal lifting of weights. MRI cervical spine revealed a disc prolapse at C5-C6 level, which was compressing the spinal cord on the left side.
He had tried all conservative treatments like physiotherapy, analgesics, traction and even rest. After thorough evaluation he was suggested to under go an anterior microdiscectomy of the C5-C6 disc and disc replacement.
His postoperative period was uneventful, he was mobilized the same day of surgery and was getting up from the bed by himself the next day. 48hrs later he was able to getup by himself from bed and walk around the ward and climb stairs, he was discharged with explanation of all precautions and advice to be followed for the next 6 weeks.
A 65 year old retired engineer, was suffering from acute pain in one leg for 3 weeks, had showed to an orthopaedic surgeon, who advised him bed rest and prescribed him analgesics. Pain was not relieved and he started developing weakness in the foot and toes of the leg, also he was having acute pain.
He underwent an MRI which showed an acute disc prolapse, compressing on the left L4, the compression was so severe and the pain so acute that the patient was unable to stand for more than 2 minutes.
Patient also was overweight and had undergone a cardiac bypass surgery 1 and half years ago. He was explained and advised to undergo a tubular endoscopic unilateral decompression.
After stopping his oral anticoagulants for 4 days, He was operated and in a 3 and half cm incision the prolapsed disc fragment was removed and patient had immediate pain relief.
He was mobilized the same day of the surgery after 6 hrs, and was comfortable and pain free to be discharged within 36 hrs after the surgery.
A 32 year old female, newly married, was suffering from weakness in left foot since 1 month, she had tried all conservative treatments; namely analgesics/painkillers, calcium & vitamin supplements & physiotherapy. There was no relief in the symptoms and weakness and painwas still present.

On clinical and radiological examination it was seen that she had L4-L5 huge disc prolapse with spondylolysis L4-L5 leading to instability.

Also on consultation dynamic x-rays were done, which further confirmed the instability. She was suggested to undergo Minimally Invasive decompression & stabilization at the earliest, in view of the weakness in the left foot.

She was mobilized same day of surgery, and was comfortable to go to washroom by herself the next day after surgery.

She was discharged on the 3rd day after surgery, with no difficulty in walking and able to walk for 10 minutes and with improvement in the power of left foot.
Minimally Invasive Multilevel Stabilization
A 58 year old lady came with complaints of low back pain, and heaviness in both legs on standing or walking for more than 5 minutes. She had the complaints for the last 5 years, but gradually progressing. She had already consulted some doctors and physiotherapists and taken treatment, but symptoms were not resolving.
Her MRI showed 2 level disc degeneration with stenosis and instability, on clinical examination and examination of the X-rays it was found that she had instability at L4-L5, L5-S1 levels due to spondylolisthesis, thus an instrumented decompression and fusion was suggested, she underwent the same after a thorough clinical examination and mobilized the next day after surgery.
3 days after surgery she was fit to be discharged, no blood transfusion was required and her walking distance at the time of discharge was about 12- 15 minutes, improved from 3-5 minutes.
A 65 year old lady came to the casualty with complaints of inability to walk and stand since 2 days, she had history of loss of appetite and weakness in the body since last 7 days, but weakness in both lower limbs was sudden.
She was evaluated in casualty and found to have lost sensation of bladder and bowel, along with complete paralysis below the hips, she underwent an urgent MRI & CT scan of the whole spine & brain.
The brain scans were normal, the MRI of the spine revealed destruction of 2 bones of the upper back- the dorsal spine- along-with compression of the spinal cord, this was the reason of the sudden weakness.
She was evaluated for surgery and an urgent decompression of the spinal cord with stabilization was performed. Since the lesion was at an upper level and approach from the back would have been cumbersome, an anterior approach directly to the pathology was performed.
The dead bone and pus was removed, (most likely it was Tuberculosis of the spine), the tissue was sent for biopsy, procedure went on smoothly without any complications.
The biopsy report came out as confirmed Tuberculosis, appropriate medicines were started and patient at the time of discharge was able to sit with the help of support at the edge of the bed. Also her bladder and bowel functions were improving.
Osteoporotic Fracture Of Spine
82 year old lady, had a fall at home due to which she was having severe pain in the low back and left thigh, she was admitted and underwent an MRI scan which revealed osteoporotic fracture at L1 level which was compressing the left sided nerve.

Her DEXA scan was done and it revealed severe osteoporosis. She was not having any pain relief even after admission for 7 days and on regular painkillers.

It was decided to perform a Minimally Invasive decompression of the L1-L2 space from the left side to decompress the nerve, and vertebroplasty L1 along with cement supported percutaneous screws D12-L2.

The procedure was well tolerated by her and after 36 hrs she was made to stand and walk with the help of walker and brace and mobilized.
She was discharged with adequate calcium and osteoporosis treatment.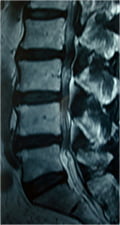 Multilevel Decompression And Stabilization Of Spine
A 70 year old healthy and fit male, staying and working in the farms, was having gradual and progressive difficulty in walking and standing. He was unable to stand/walk more than 2 minutes and lifting of both the feet from the ground was difficult. He was also suffering from severe heaviness in both feet and night cramps.
His clinical examination revealed gradual weakness of both feet, and inability to actively pull both feet and toes towards self, his muscles of both the calf were showing wasting.
His MRI scan of the spine revealed multilevel spinal cord compression in the low back or lumbar spine, due to degenerative or age related changes. As he was medically fit with no Hypertension or Diabetes, he was evaluated and explained for surgical option, in-view of the developing weakness of both the legs.
A multilevel decompression with stabilization was performed and patient did not have any complications during surgery, 300ml blood loss was there, so no blood transfusion was required.
Post surgery, He immediately felt the heaviness in both legs had reduced, and was able to get up and walk in his room 24 hrs after the surgery, by himself.
He was discharged 4 days after the surgery and was able to stand and walk for 15 minutes at that time, with gradual improvement everday.
Acute Slip Disc Of The Cervical Spine
A 37 year old manual labourer, lifted heavy weight on his shoulders, more than 40 kgs. Suddenly he felt weakness in both legs and hands along with severe pain in the neck and hands.

He was brought to the opd and on examination revealed weakness of both the hands and legs and inability to stand and walk properly. His bladder and bowel functions had also weakened.

An urgent MRI scan of the cervical spine was done and it revealed a huge disc prolapse in the neck (cervical spine) this was compressing the spinal cord and causing edema and damage to it. Since he was young and no medical problems, he was explained the importance of urgent surgery and was ready. He underwent an anterior cervical microdiscectomy and stabilization. Post surgery his balance and walking gait was improving.
On 3 months follow-up he had improved by 85%
Traumatic Fracture Of The Cervical Spine
A 20 year old, college going male, suffered a vehicular accident, he was brought to the casualty, with loss of sensation below the chest and weakness in both hands and legs. An MRI & CT scan revealed a fracture of the bones of the cervical spine(neck) this was compressing on the spinal cord behind. This compression was causing edema in the spinal cord and damage of the nerves going through them.

He was evaluated and underwent a decompression and stabilization of the cervical spine, post surgery he showed marginal improvement in his powers of both legs and hands. With regular physiotherapy post surgery at 5 months followup, he had complete recovery from his weakness, and was able to walk independently and do all work.